Telos VX Prime VoIP Phone System
VX Prime+
Regular price
$8,788.00
/
---
 Telos® VX Prime+ Broadcast VoIP Phone System Overview
Telos VX® is the first VoIP (Voice over IP) system for broadcast and is ideal for radio and TV applications, as well as some government applications. From remote IFBs to audience call-ins, it can run anywhere from one or two lines in a small studio to the on-air phones for your entire plant, giving you incredible operational power, adaptable workflows, and superior audio quality.
For small to medium facilities, the Telos VX Prime+ hardware appliance has a fixed 8-channel capacity.
Legendary Telos Audio Quality
Using VoIP, VX combines modern networking with the power of digital signal processing developed by Telos over the past three decades. Every call gets fifth-generation audio processing packed full of technology engineered to extract the cleanest, clearest caller audio from any phone line—even noisy cellular calls. 
VX includes Smart AGC coupled with our famous three-band adaptive Digital Dynamic EQ, a three-band adaptive spectral processor, and noise gating. Call-ducking and host override are part of the VX toolkit as well. Users can conference multiple lines with superior clarity and fidelity. Send audio gets its own sweetening with an AGC, limiter, and Acoustic Echo Cancellation (AEC) technology that eliminates open-mic feedback. 
AEC is crucial when you have talent answering and recording calls for later airing. Without headphones, the caller's own voice is coming out of a cue/preview speaker and immediately getting picked up by the talent microphone, where it is sent back to the caller. This is very distracting to the caller. 
These audio samples demonstrate what the listener will hear with and without AEC in this situation. 
And if you choose to use compatible telco services, calls from mobile handsets with SIP clients, HD capable telephone sets, and PC apps will benefit from VX's native support of the G.722 codec, instantly improving caller speech quality.
Standards-Based for Easy Connectivity
Whether you are new to IP networking, integrating with an AES67 network, or plugging into a Livewire® network, VX VoIP systems integrate into your ecosystem.
Telos VX systems are "facility-wide" broadcast phone products. That means multiple studios, multiple stations, multiple shows—with minimal hardware requirements. Telco is delivered via IP from your SIP PBX, hosted VoIP service, or UCaaS provider. For carrier-grade reliability and redundancy, a dedicated SIP trunk circuit can be integrated via a Telos-configured Asterisk-based PBX; legacy circuits such as POTS, ISDN, or T1 can be integrated in the same way. Once connected, all telecom and audio connectivity flows via Ethernet.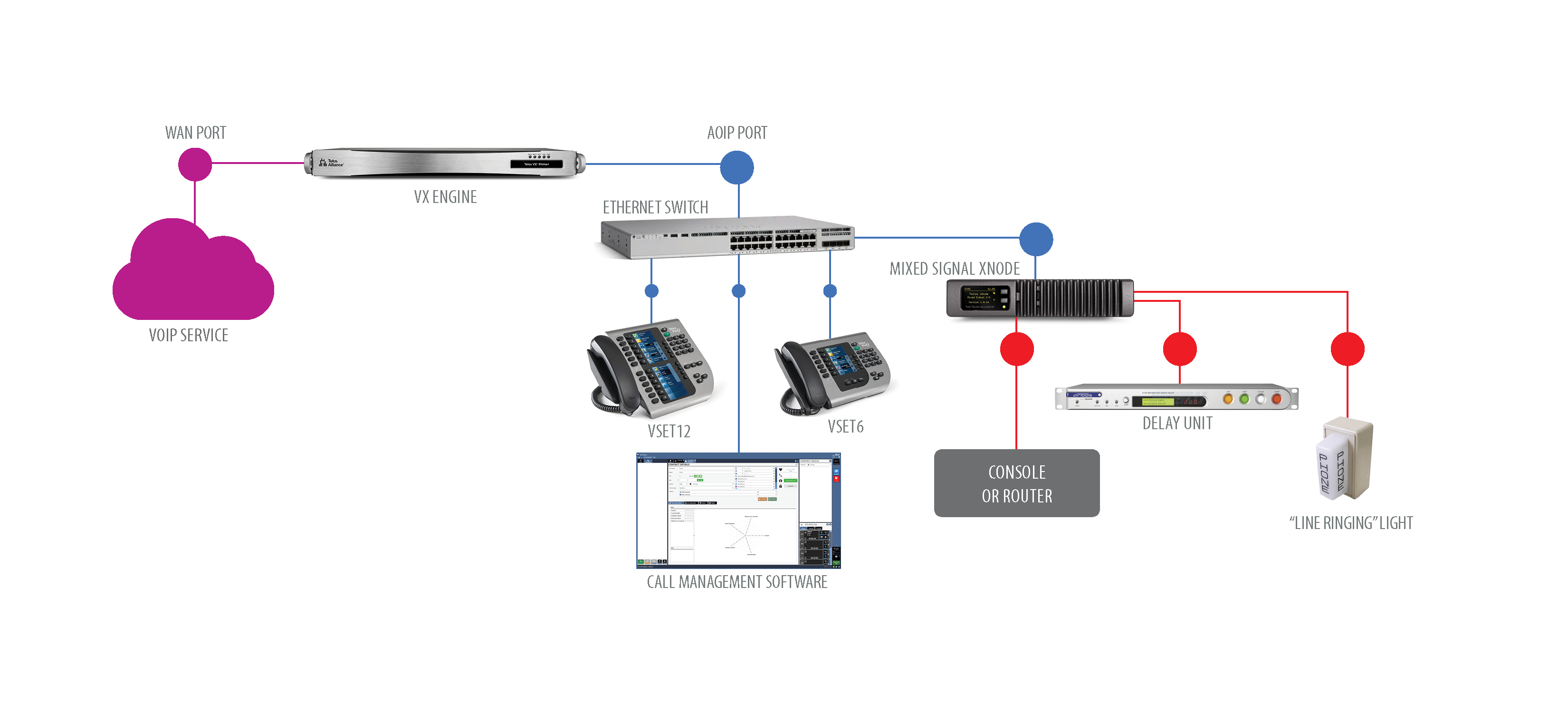 New-to-AoIP Installation 
Don't have IP-Audio networking yet? VX will work with all console brands, networked or not, using Telos Alliance xNodes and the VX Call Controller drop-in controller for your console. xNodes, like the Telos Alliance Mixed Signal Node, break out audio into analog and digital formats, along with GPIO logic commands. 
The diagram above shows a typical studio with an analog mixer, using a Telos Alliance Mixed Signal xNode to connect to the console and other broadcast equipment.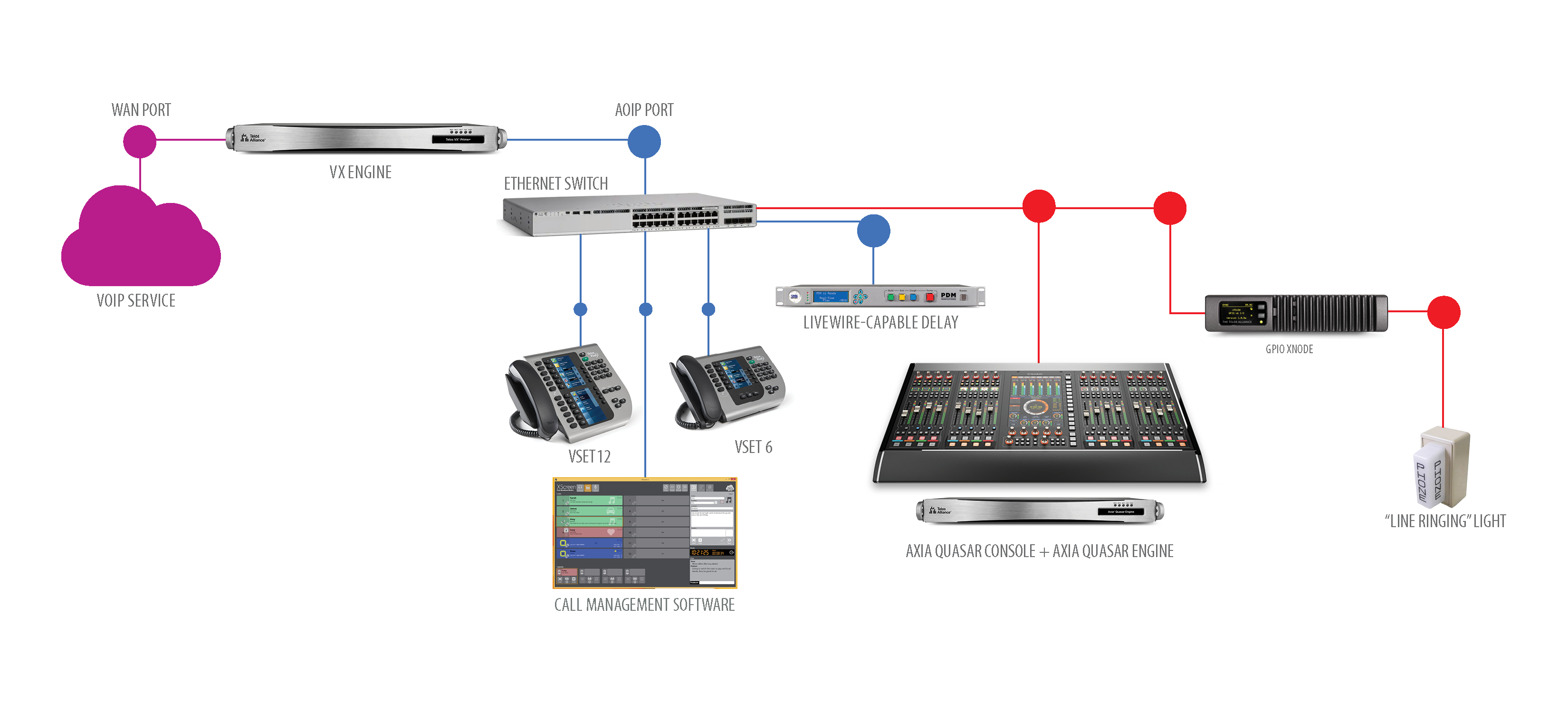 AoIP Installation
Installing a VX VoIP system in facilities already powered by Livewire+™ AES67 networks requires even less time and hardware. Your new VX phone system will plug right in for seamless integration of studio phones, mixing consoles, and routing networks. The audio inputs and outputs used and produced by VX are Livewire real-time audio channels and travel over the Livewire AoIP network just like the rest of your audio. You can use existing GPIO ports for "phone ringing" tallies or virtual GPIO for remote control of profanity delay units.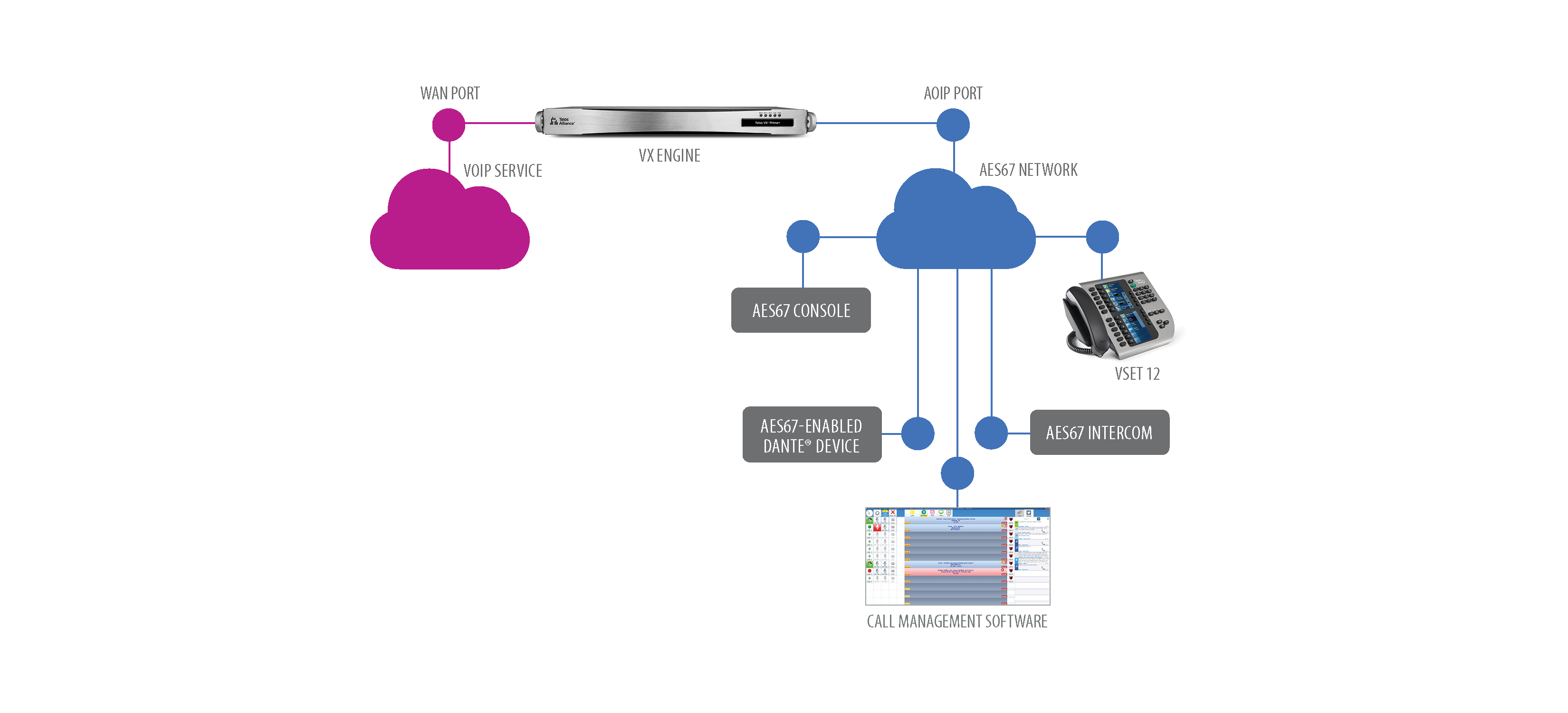 AES67 Installation
AES67 support brings a new level of compatibility and flexibility to VX VoIP systems. Support for AES67 gives broadcasters the capability of integrating VX into any AES67 environment or compatible SMPTE 2110-30 environments. With plug-and-play connectivity, you can network multiple channels of audio with any manufacturer's AES67-compliant hardware. Support for SAP advertisement means VX smoothly integrates alongside AES67-enabled Dante® devices.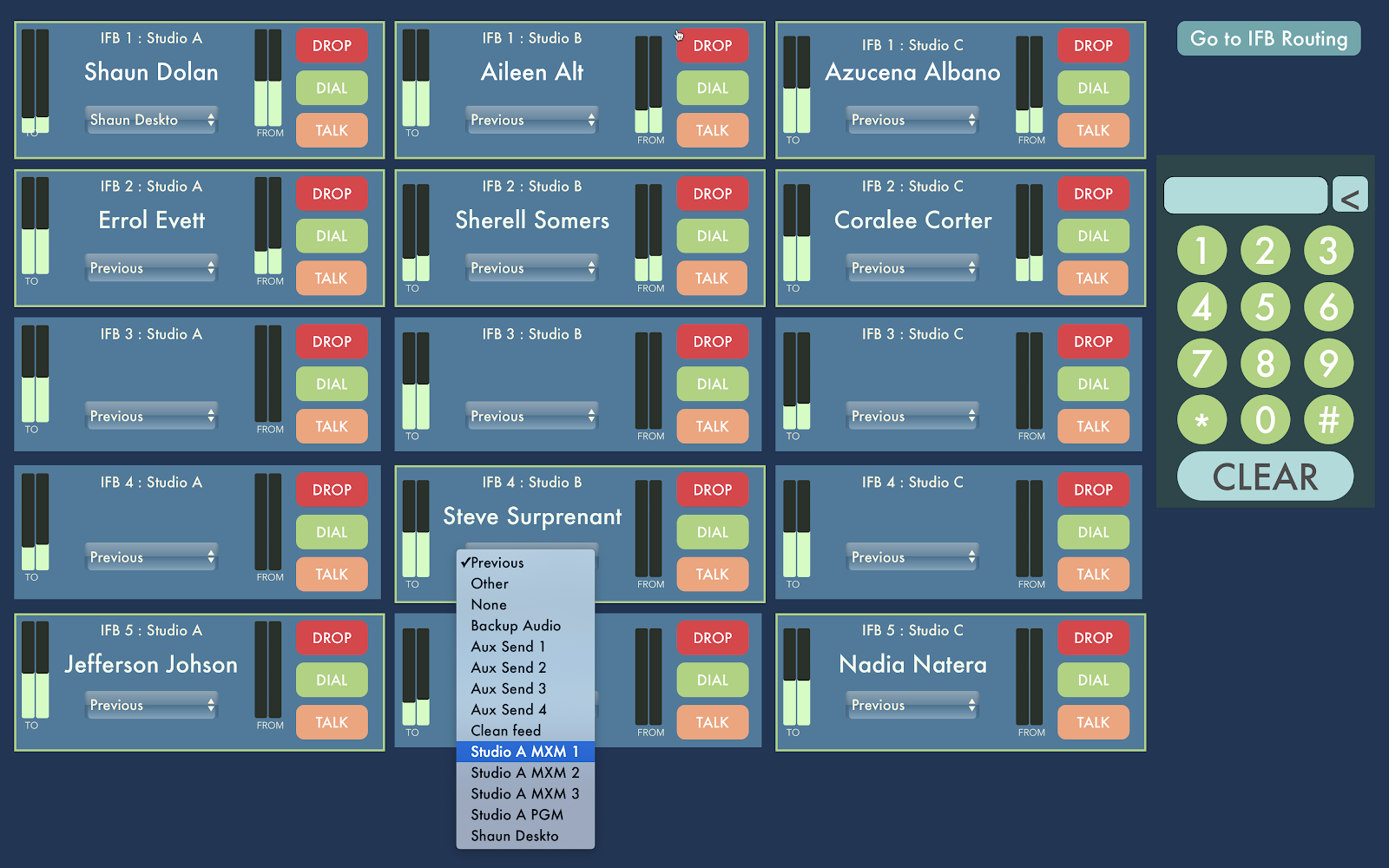 HTML-5 Control
When combined with Axia® Pathfinder™ Core PRO, you can create touchscreen-friendly custom HTML-5 panels to monitor and control every aspect of the VX system from any web browser. Remote talent can use a panel to manage all the lines in the facility in a Master Control setting; to take calls live while broadcasting from home; or, in a TV Control Room, to manage IFBs used by talent and technical staff in the field. Gone are the days of reporters calling into the wrong IFB and missing their live shot. With an HTML-5 control panel, producers can see the status and caller ID of each IFB line and even have the ability to call the reporter directly (pictured).
TelosCare™ PLUS 
We know that your VX is just one piece of the telephony puzzle, which may include your VoIP provider, PBX vendor, IT team, network security team, and more. We love to leverage our combined centuries of telephony experience to serve as your trusted VoIP ninjas and help you complete and maintain your telephony puzzle for years to come. 
TelosCare PLUS gives you the one-stop service and support you need long after the sale, going far beyond basic support and troubleshooting with proactive, holistic service and membership perks. As we move to a virtual broadcasting world and software becomes increasingly prevalent, this becomes even more critical. With TelosCare PLUS, customers can adapt their software to their needs, expanding or retracting their licenses as their operations change.