AudioVAULT FLEX
AudioVAULT FLEX
Regular price
$888,888.88
/
---
AudioVAULT FLEX Automation System
The most reliable and expandable studio automation system gives you more control than ever before with new features like reimagined satellite automation that makes it easier than ever to set-up and manage satellite programming.
Also, we've introduced PerfectTiming™ a feature designed to keep you on-time, all the time!
Also, brand new, is real-time integration with MusicMaster™, that makes sure every song you insert or replace always follows your rules. And reconciliation a breeze, because it happens in real-time without you lifting a finger.
AudioVAULT FleX continues the tradition of providing the most flexible studio automation system with full service customizable studio tools.
More Features, Great Reliability
Reimagined satellite integration.
Real-time integration with MusicMaster™
Brand new AVImport for content downloads.
Perfect Timing™ combines auto-fill, auto-drop and squeeze/stretch to keep your station on time
Mobile App
Now you can stay connected with your
AudioVAULT FleX system while away from
the station. Whether you're an engineer or
air talent, the FleX Mobile App gives you the
features you need to securely interface with
your AudioVAULT FleX while on the go.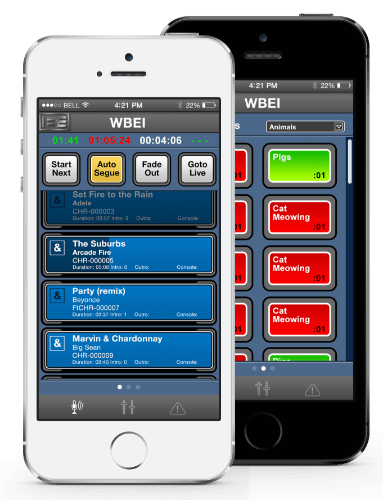 Brand New to FleX
Now you can stay connected with your AudioVAULT FleX system while away from the station. Whether you're an engineer or air talent the FleX Mobile App gives you the features you need to securely interface with your AudioVAULT FleX while on the go.

Server Files
NFServer: Advanced File Distribution
NFServer is our super-duper file distribution application that makes transparent networking between studios and sites possible. Used over a wide area network, NFServer connects sites in different cities, states or countries. It is useful for synchronizing cuts on multiple workstations, for creating multiple levels of backup and for sharing audio between stations.
One of the major advantages of using NFS over a WAN is that everything happens transparently. Users don't have to think about putting files in specific folders. NFServer makes sure that all library "vaults" have the most up-to-date files.
Key Features
Share network files and audio transparently
Create hot backups of station audio libraries and other critical files
Keep all files in your network up-to-date with the latest versions
AVImport: Embedded File Transfer
AVImport is an FTP-based tool that is equally at home within single-station and multi-station groups or networks. AVImport allows you to automatically distribute content using an IP connection, either on your local network or over the Internet.
A true FTP server with added AudioVAULT functionality, AVImport can handle more than just AudioVAULT files. Any type of file can be distributed, including software updates, spreadsheets, company memos in any format and even video or Flash files.
AVImport allows you to centralize manpower. Programmers based in New York can easily deliver music schedules to stations in Portland or Puerto Rico. Traffic can be centralized in Kansas City, delivering schedules to sites in Bangor or Barcelona. Production can be created in fully equipped studios in Dallas and automatically delivered to Tokyo or Timbuktu.
Once the remotely created content arrives at the local site, it can automatically be imported into the local AudioVAULT without any manual intervention.
Not only can AVImport deliver content, it can retrieve content just as easily. As-run logs or reconciliations can be gathered from anywhere in the world and pulled back to a central location for billing purposes.
Key Features
Retrieve or deliver practically any type of file using this embedded FTP application
Centralize programming, traffic or production resources, saving you money and increasing efficiency
Automatically import delivered content to your system
Remotely manage and maintain AudioVAULT audio libraries

Automatically gather as-run and reconciliation logs from remote stations
Schedule
AVScheduler: Plays Well with Others
We know you've invested a lot of time and money into your music and traffic scheduling programs, so we designed AudioVAULT around open standards. Any scheduling program capable of exporting a schedule file will work with AudioVAULT, making it the most flexible and adaptable interface available today.
With AVScheduler, you can import traffic and music schedules and combine them with events like news, weather, liners, and talk segments. Or, create an integrated event file that lists every event in order from the legal ID at midnight to the last song in the 11 o'clock hour.
To make it even easier, you can completely automate the process of importing schedules, performing schedule checks and sending the completed schedule to AVAir. AVScheduler can constantly scan directories on your station network, so all you have to do is export the schedule from your music or traffic program; AVScheduler will do the rest.
Key Features
Keep your existing music or traffic scheduling program. AVScheduler works with any music or traffic scheduling package capable of exporting an ASCII output file.
Make schedule changes quickly with drag-and-drop interface and send to AVAir for fast and automatic schedule updates
Automate events and event triggers, including updates and timed events
Protect your schedules from unauthorized access with password-protected AVScheduler
Audition audio directly within AVScheduler
Automate music and traffic imports for hands-off operation
Import schedules as far in advance as you have output files…you're not limited to scheduling only a week in advance
Studio Sync
Peer-to-Peer Synchronization Between Studios
There's a lot to keep track of in the modern radio operation. That's where AVHarmony comes in. This AudioVAULT module enables peer-to-peer synchronization, so you can automate background tasks such as replicating logs and coordinating event timers between workstations.
These tools make it practical to control cues throughout a cluster, which can be helpful in an all-news operation running live studios simultaneously. Or, use them to replicate all logs and create order out of event and break timers throughout. And, if a local server should fail, you won't be stuck scrambling to fill dead air. Our peer-to-peer synchronization module come to the rescue by enabling you to play from other studios in the network harmonized according to station logs and music schedules.
Key Features
Replicate all program logs and status files in a cluster
Create local start/stop and global start/stop cues for coordinating multiple live studios
Play from any other harmonized studio location in the network should a local server go down
Record
FleXUI Production: Basic Recording/Playback at the Push of a Button
Editor: Quick Production
AudioVAULT's sophistication never gets in the way of basic functionality. Its FlexUI Production is designed for busy studios with all the buttons you expect to see on an analog unit – record, start, stop, fast-forward, rewind, and pause. Want to record a spot? Just press "record". Want to audition a spot? Load it in to FleXUI Production and press "play."
Key Features
Record, start, stop, fast-forward, rewind, or pause with the simple push of a button
Audition audio in an instant
Quickly record news actualities or phone bits
Easily fast-forward or rewind audio tracks and press "play" now or earmark sections for replay later
Import Audio
AVImport: Scan and Import Standard Audio Files
Keep all those hard-earned audio files created in Adobe Audition or Pro Tools. Or, import audio created outside of the station regardless of the software used to create it.
AudioVAULT is an open platform with one tool to automatically import audio files: AVImport. Configure AudioVAULT to scan network folders for new content and automatically import the audio files you want into a temporary or other specified directory.
Key Features
Scan network folders for specified audio files and import them
Repurpose content for redistribution on other stations or channels
Reuse audio created in other file formats, such as Adobe Audition or Pro Tools
Edit Audio
FleXUI Production: Audio Editor for Light Production and Newsrooms
You'll be amazed at how powerful, yet simple this stereo audio editor is. From simple dubbing to full ad production, the FleXUI Production editor does it all. This useful editor will even modify audio-associated metadata for recording, playback or delivery purposes.
Key Features
Easily dub in a spot from an ad agency or lay down a voiceover track
Effortlessly set begin and end points within an audio file, adjust gain, and add secondary and tertiary tones for automation functions
Mark sections of an upcoming song and play it on-air as a "hook" leading into a break, or as a recurring audio loop played at intervals throughout a segment
Modify audio cut metadata, including artist and title, intro time and outcue, and start and end dates
Rip Audio
FleXUI Production CD Ripper gadget, a Ripper Specifically for the Studio
There are a number of good commercial rippers available, but our FleXUI Production CD Ripper gadget tool takes CD audio extraction a few steps further.
Extract audio straight to your AudioVAULT file system as a WAV or MP3 file in a number of sample and compression rates. Automatically add AudioVAULT-specific information like trim points and automation segue markers. And, download metadata like artist, title and album information from online databases and insert that information directly into the header of the AudioVAULT file.
FleXUI Production CD Ripper gadget can even insert links to album art, making your AudioVAULT file ready for web applications capable of supporting album art and for future HD Radio receivers that will support such graphics.
FleXUI Production CD Ripper gadget is designed to create AudioVAULT files that are practically ready to play right after ripping. Not only can it rip in music CDs much faster than realtime with increases in audio level accuracy and metadata accuracy, it can just as easily be used to rip in syndicated programming delivered on CD. Once the ripping process begins, you are free to do other things while the ripped files are created in your file system.
Key Features
Rip in music CDs as well as syndicated programming
Rip CD audio to complete AudioVAULT-formatted files much faster than realtime
Rip CD audio to multiple formats, including WAV, compressed WAV and MP3
Create automated AudioVAULT filenames based on criteria you specify
Trim audio and add AudioVAULT SEC tones, automatically
Satellite
FleX Satellite: Satellite Integration
FleX Satellite is your ticket to localizing satellite delivered programming. Using AudioVAULT's built-in remote control language, FleX Satellite reliably responds to contact closures from your satellite provider and uses those closures to play back local liners and commercial breaks whenever and however you like.
You can automate even the most complex satellite schedule with external switchers that you determine for a more local feel to your satellite programming.
Key Features
Localize satellite programs with powerful macro language that automatically loads local commercials, liners and sweepers
Automate even the most complex satellite schedule with integrated remote control language controlled by external contact closures
Re-map remote control events based on time to allow for programs from different providers
Configure FleX Satellite to control external devices like satellite switchers, allowing for complete automation of satellite operations
FleX Interface
AVAir: On-Air Interface with Multiple Personalities
This on-air interface has personality plus with all the widgets and workflow controls you need to instantly drop in liners, retrieve audio files and make changes minutes before air.
Operate multiple functions individually or collaborate with talent seamlessly. Plus, you set up screen presets that can be changed by show or by talent; by daypart or by format. Operate live, live-assist or automated. All from one seat.
Key Features
Personalize AVAir workspace for each user, with your choice of control faders, mouse and/or touchscreen operation
Create screen layout presets for specific shows, talent or other studio functions
Configure AVAir for specialized applications, such as monitoring HD2 or Internet-only channels
Find the audio you need in a flash with easy-to-use, searchable navigation pane
Collaborate in realtime with workgroups from separate studios through AudioVAULT's multi-thread engine
Work smarter. Enhanced quick-starts give you access to an unlimited number of button palettes, with each button instantly configured to playback audio, position phoners, place sound effect drops and more!
Work together. With AudioVAULT, you can view, modify or manipulate the program log at the same time as other on-air talent. Or, you can assign creative control to one and monitor-only ability to another.
Bring RSS and other information feeds right in your AVAir workspace with direct Internet connectivity
Add "widgets" for advanced functionality via RSS feeds, such as temperature, weather forecast, traffic reports, news headlines, webcams and even the ability to IM chat with listeners
Voice Tracking & Segue Editor
Voice Tracking: It's All About Transitions
This isn't just any voice tracker. The difference is found in our embedded Segue Editor, which makes quick work out of audio transitions. With VoiceTracker and embedded Segue Editor, song-voicetrack-song crossfades are created by adjusting the audio gain between transitions, not by creating separate tracks that can complicate matters. Donuts and double-donuts? No problem. Our voice tracking tools give you everything you need to effectively maximize all your studio resources without compromising program quality.
Our embedded Segue Editor is also useful for other applications in the studio requiring adjustments of audio fade/ramp/gain.
Key Features
Seamlessly crossfade voice tracks and music transitions using audio gain control
Record voicetracks from multiple sources at once, for the same day at the same time
Goof-proof voicetracks using unique filename designators indicating location within your schedule
Combine our sophisticated voicetracking with AudioVAULT distribution tools to syndicate programming anywhere in the world
Efficiently localize multiple stations from a centralized studio